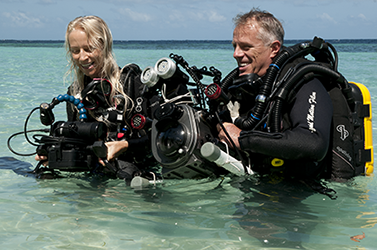 Anita & Guy
Founders & Managing Directors
Bound by a dream... Cinematographers, Photographers, Filmmakers, Fish Behaviourists, Oceanographers, Environmentalists, Fluo-Diving Pioneers, Entrepreneurs, Inspiration behind numerous leading businesses and world-class resorts,... the world renowned Filmmaker couple Anita & Guy are better known under their professional name of Liquid Motion®.
With numerous international media awards, most recently for their National Geographic exclusives, 'City Under the Sea' and 'Water Colours', their underwater films have been hailed as some of the best in the world. Their work encompasses blue chip cinematography, photography, film and art.
After juggling a multi-faceted film career with managing the worlds most prestigious island resorts for 20 years, in 2013, Anita & Guy decided to relocate to the island of Cozumel to be nearer their clients and concentrate on their lifetime passion in full. Click to read FULL BIO's...